May 2023 Newsletter
Can Specifiers Understand Your Product Offering?
I do not expect a web designer to understand how a specifier thinks. I do not expect a web designer to understand the CSI classification system.
If you said "940" to a librarian at a party, she would think European history. Say "08-3000" to a specifier they think specialty doors. Just as a librarian understands the Dewey Decimal or LIbrary of Congress Classification Systems a specifier understand the CSI MasterFormat classification system.
When I look at a website to add them to 4specs, I try to envision what their manufacturing facility looks like. Does it cast metal or form metal or blend liquids as examples.
Many manufacturers have a simple listing of their products like this one taken from our newsletter "Can a Website Be Too Simple?"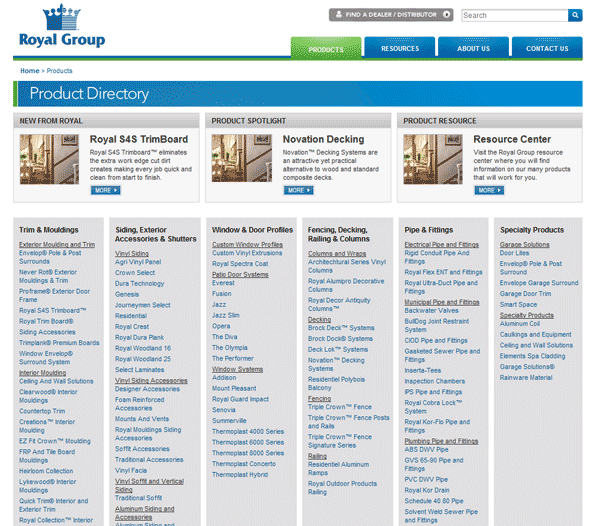 If this list had been organized by CSI sections, it would be easier to understood what was available. You can do this your self on your website or 4specs can provide a profile page for you. Look at the Strongwell profile page 4specs developed as one example.
An architectural designer searches for a solution for his question - How Do I? A specifier is typically updating a specific section for his specification office master and wants to find all the applicable information in one place - CAD, Specs, BIM, Product Data Sheets, etc.
The Mars Metal Profile page shows an easy way to combine the products listed by section with access to the specific information.
You want the specifier to understand all the manufacturer makes. A few manufacturers have developed multiple websites probably for search engine optimization reasons. Westlake Royal Building Products has purchased multiple companies with their products spread across multiple CSI sections and divisions. Westlake has 3 separate website urls, one for each product group. A specifier finding one product group would never realize they made other products. 4specs is developing a profile page for Westlake to overcome this. See the 4specs Westlake profile page here.
Another manufacturer with multiple product websites with no interconnection is Eastman Chemical. They have multiple architectural product websites with no easy way to understand their complete offering. These products are Saflex, Llumar and Vanceva. A comined website or a 4specs profile page would help the specifier understand all the Eastman products available to the specifier to review and consider.
Contact me if you have any questions or suggestions.
Colin
--------------------------------------
Colin Gilboy
Publisher - 4specs
Contact us