09 2960 - Lead-Lined Gypsum Wallboard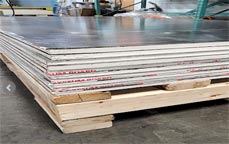 MarShield
MarShield's line of leaded drywall is furnished as type "X" fire code or non-fire-coded and is available in 1/2" to 5/8" thickness with a lead thickness of 1/32" to 1/8" maximum thickness. The drywall conforms to ASTM C36 and Federal Specifications QQ-L-201 F, GRADE C, ASTM B-29.

EZ Quick X-Ray Shielding Panels - a simple alternative to fixed permanent wall shielding. This is an easy, clean and efficient method of non-altering rental spaces or converting existing rooms to a certified radiation protected x-ray room.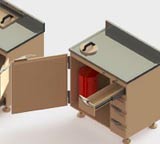 MarShield
All standard and custom cabinets are available with your choice in lead shielding – 1/4", 1/2" and 1" (custom thickness available up to 4"). Our cabinets combine effective radiation protection and durability in a rugged, attractive and versatile line. From a small one-off cabinet to an entire room system, our qualified design experts will work with you to meet your specific requirements.
08 8860 - Leaded X-Ray Glass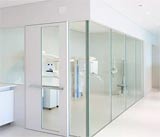 MarShield
X-Ray lead glass and acrylic. Glass shields in the 100-300 kV range. High barium and lead content for optimum protection. Thicknesses from 5/16"-9/16" (lead equivalency 1.68mm-3.2mm). Industry's largest size: 48"x96". Acrylic shields provide shatter-resistent, versatile mobile barriers, modular control booths, window panes, and door glazing. Intelligent solutions to the most challenging radiation protection problems.
08 3440 - Radiation Protection Doors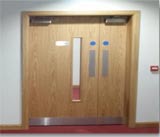 MarShield
Lead-lined metal and wood veneer doors and hollow metal frames manufactured to have an equal appearance to architectural-designed doors and frames for medical X-Ray, PET or CT scan rooms in hospitals and doctors' offices. Our doors are designed and constructed with the highest quality craftsmanship and materials available. Variety of thicknesses are available.
13 4900 - Radiation Protection