April 2017 Newsletter
BIM is Much More Than Revit!

Which File Format is Best For Your Company?
by Doug Bevill, past-President BimObject, Inc.
Part 3
Over the past ten plus years in the US, we have seen broad adaptation of BIM as a design and contracting process. Now most of the US government and many other US public, and private entities are requiring project models to be delivered to facility management (FM), as digital, or BIM models. Most of the AEC space is using Sketchup, AutoCad, Revit, Archicad and several other platforms during all phases of design, construction, or the (FM) process. The graph below illustrates US downloads by platform from BIMobject's Analytical BIM portal, BIManaytics Pro®.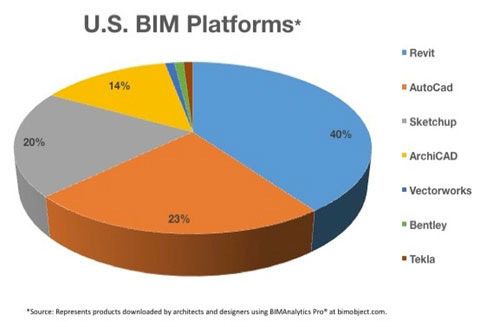 It is important to note that from early design to facilities management the various members of the building team require graduating "Levels of Development" (LOD) in the BIM models being used. There are five, this link from Autodesk will be a good reference;
[link not responding]
This graph clearly shows that Revit is the preferred BIM platform, however, it also clearly illustrates the broad use of other software platforms. Your Revit models should also be available in the last three LODs, as shown below.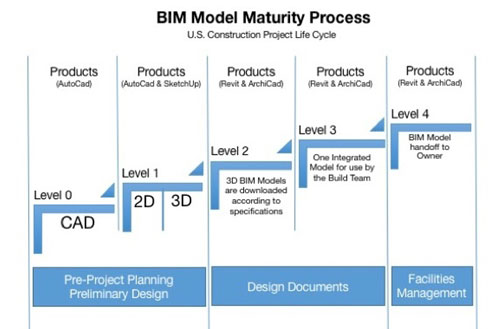 ---
Colin's comments: Different products may need different or multiple BIM programs.
Google SketchUp - this is frequently used for renderings and studies. A bicycle rack or walkway canopy with a SketchUp BIM model may be carried into the final working drawings and specifications.
Revit - a steel stud wall details be used primarily for the final working drawings and a Revit model is best.
Consider when and where decisions about your products are being made and which BIM programs are most appropriate for your products at each stage of design.
---
Other articles in this series:
Part 1 - Do You Have a BIM Strategy
Part 2 - Does a Download of Your Specs or BIM Objects Mean You Are Specified and Approved?
Part 4 - Manufacturers Interact with Every Member of the Building Team
Feedback, comments and suggestions always appreciated.
Colin
--------------------------------------
Colin Gilboy
Publisher - 4specs
Contact us