August 2019 Newsletter
Speed Up - Clean Up Your Files
This follows 2 prior newsletters:
The next step in evaluating your website is to understand why your website is slower than Google rewards. The reasons generally fall into 3 categories:
Too many images and non-optimized images
Too many javascript files
Too many cascading stype sheets
Images
Going back to Webpagetest.org and the content breakdown tab - you will see the analysis for the page we used last month. This website has a 24.9 second load time, clearly too slow. Run your website and follow along.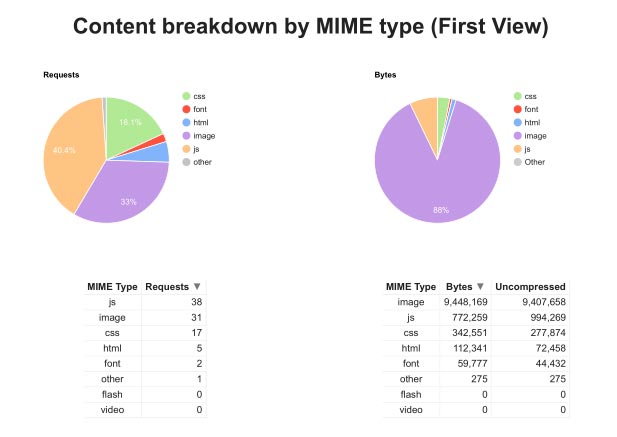 The right column shows that the image files for this website page are over 9 megabytes and the left column shows there are 31 images. Looking at the bytes verses uncompressed columns shows that few images are compressed and over 4 megabytes could be saved with compression.

By simply running the image through an image compressor such as Photoshop (I use the low cost Photoshop Elements on 4specs), the number of image bytes can be significantly reduced. Looking at the size of the image may also permit the use of smaller images.
Javascript
There are 38 javascript files downloaded by this page. Changing templates on Wordpress will frequently leave unused javascript files hanging around. Look at what is needed and look to combine javascript files into one file. Here is an article about combining javascript:
[page no longer valid]
Here is a tool to check your website. When I tried to run it on the site above it would run and run and never complete.
[page no longer valid]
CSS - Cascading Style Sheets
This website has 17 CSS files that could be combined into one file. Here is an article on how to do this:
[page no longer valid]
Review these tools for your home page and several internal pages. Talk with your web designer about how to speed up your website.
Questions and suggestions are always appreciated.
Colin
--------------------------------------
Colin Gilboy
Publisher - 4specs
Contact us