February 2016 Newsletter
The Results of Going Mobile Friendly
Two months ago our newsletter discussed how Google has increased its focus on your website being mobile friendly in our To Mobile or Not to Mobile newsletter.
Last month our newsletter covered How I Made 4specs Mobile Friendly.
What were the results? I used Google Webmaster Tools to validate that 4specs met the Google guidelines for being mobile friendly. The image below shows the decrease in the number of pages not mobile friendly.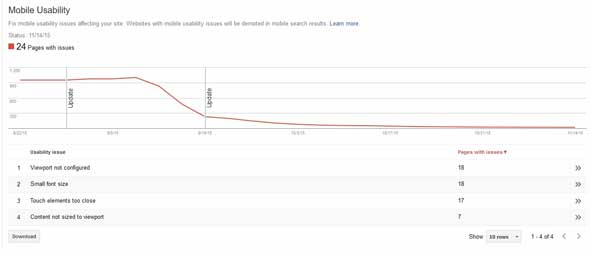 The latest version of the few remaining pages have not been picked up by Google as mobile friendly. Clicking on the image will bring up a larger version in a new tab.
The results - drum roll....
From Google Analytics looking at a 6 month period, there was not any increase in mobile usage. Clicking on the link will bring up a larger version in a new tab.

This includes both iPhones and iPads. Android devices were not frequently used. 4specs has always worked well on iPads, even before the mobile-friendly code changes.
Was it worth the work? Yes - the changes in code showed that mobile devices were not important to the 4specs results. In making the change I ensured the best results and eliminated the question as to whether I should have gone mobile friendly.
Taking 1 day - January 18th, 4specs had the following results using Google Analytics and our server referral log for the day:
Total Sessions: 1,121 sessions and 1,284 referrals to manufacturer's websites
iPad: 39 sessions (3.5% of total sessions) and 13 referrals (1% of total referrals)
iPhone: 72 sessions (6.4%) and 27 referrals (2.1%)
During January I talked with one advertiser. She said her marketing group had pushed her to develop an iPhone app to access their website information. In a 3 month period they had 95 downloads of the app and no uses of the app to access design information.
These results are consistent with my perspective of manufacturer's websites as a binder replacement. Almost everything useful will be done on a computer and not an iPhone. Most websites will already work fine with an iPad - assuming there is no flash on the website.
Colin
--------------------------------------
Colin Gilboy
Publisher - 4specs
Contact us