RPM - Republic Powdered Metals
4specs has listed all the RPM companies we have identified, excluding non-US and non-Canadian companies. Please let us know if we have missed any. Email:
---
---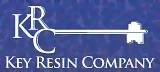 Key Resin Company
Think industry experience, product quality and top-notch service. We set the standard for resinous floor and coating systems. KRC offers a variety of durable solutions for your unique needs. Visit our web site to learn more about our fluid applied flooring systems ideal for areas subject to high traffic, impact, thermal shock, and chemical attack.
---
---