26 5175 - Interior Athletic Lighting
See also: 26 5660 - Exterior Athletic Lighting
---
Kurtzon Lighting - Complete technical solutions for lighting specialized environments.
---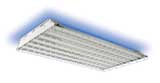 Schelde Sports North America
Schelde SportLight improves gym light and cuts energy costs. Tired of the slow start up time, low light levels and high energy cost of your current gym lighting? With the Schelde SportLight, you can double the brightness of your gym and save 50% or more on your energy costs. Brilliant. Long-lasting. Instant on/off. Economical.
---
SPI Lighting - SPI offers high-quality, interior and exterior, architectural and performance-level fixtures with unlimited customization capabilities.
---