22 4500 - Emergency Plumbing Fixtures
(Includes eye wash stations and emergency showers)
---
---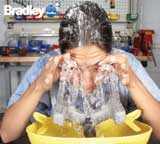 Bradley Corporation

Bradley manufactures a broad line of emergency plumbing fixtures including drench showers and hoses, eye/face wash units, combination units, portable units, frost-free fixtures, alarm systems, and portable units. The revolutionary Spintec™ showerhead provides the most effective removal of contaminants in the industry. Also, see the new Enclosed Safety Shower for harsh environments.
---
---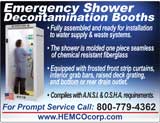 HEMCO Corporation
Emergency Shower Decontamination Booths. After exposure to a hazardous substance, any delay can result in serious injury. OSHA & ANSI require that emergency shower is to be located within 10 seconds walking time from the hazardous site location. Delivers immediate full body shower. Eye / face wash with positive stay open valves.
---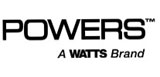 Powers
Patented water tempering technology for emergency appliances including eye washes, eye/face washes, drench showers and combination units.
---
---