22 3240 - High Purity Water Systems
See also: 22 1057 - Corrosion Resistant Piping, Valves and Fittings
---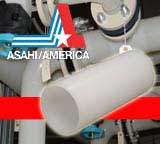 Asahi/America

Asahi/America provides the most comprehensive and technologically advanced high purity piping systems on the market today. We offer thee unique systems, Purad™ Ultra High Purity PVDF, PolyPure™ Natural Polypropylene, and PP Pure™ Polypropylene Piping Systems. Each of these systems features a full selection of sizes, fittings and pressure ratings.
---
Hydro Services & Supplies - Specialists in ultrapure water, manufacturing non-particulating polypropylene laboratory faucets.
Orion Fittings - A full line of polypropylene and polyvinylidene fluoride (PVDF) acid waste, pure water, and neutralization systems.
---