13 2700 - Safe Rooms
(Typically for residential applications)
See also:
06 6700 - Ballistics-Resistant Panels
11 1600 - Security and Vault Equipment for high security safe rooms.
---
---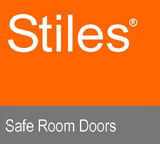 Stiles Custom Metal
Specify Stiles Ballistica™ for safe room door assemblies. Pre-engineered and custom designed, UL752 Levels 1-8, in wood, steel, stainless steel, and bronze. Independently tested and certified / UL752 Ballistics Rating and Fire Rated UL 10C. For immediate design assistance, contact our staff with over 40 years experience. Call 209 / 538-3667
---
TornadoShelter.com - National storm shelter / safe room manufacturer and distributor located in Springfield, MO.
---