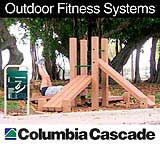 Columbia Cascade Co.

Fitness equipment clusters are four composite groups of exercise apparatus installed at separate locations or combined within a single area. Routes feature up to 18 individual exercise stations for placement along a trail or path. Both forms come with instructional graphics and are available using steel, timber or 100% post-consumer recycled plastic structural systems.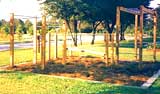 Florida Playground and Steel Co.
One of our early models shown here is still manufactured today, but we also offer the latest in innovative, durable, robust apparatus focusing on the four elements critical for overall wellness - aerobic fitness, muscle strength, flexibility and balance.  Florida Playground is Outdoor Living, offering all types of site furnishings plus steel shelters and shade structures including custom designed pergolas.