09 6200 - Specialty Flooring
See also:
09 6230 - Decorative Concrete Toppings
09 6240 - Glass Flooring & Framing
09 6250 - Leather Flooring
09 6270 - Plastic Laminate Flooring
09 6280 - Static Control Flooring
---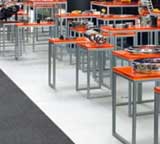 Aluma Floor and More
Create a sophisticated hi-tech look for floors, stairs, skirting and walls. Alumafloor tight-fitting panels need no grouting. Aluminum panels are adhesively affixed to a suitable substrate, eliminating the need for fasteners and resulting in a smooth, monolithic, hi-tech appearance. Alumafloor is a durable surface and is fabricated to meet ASTM C 1028.
---
Belden Brick Company - Belden Chemical Resistent Floor Brick – backed by more than 115 years of brick making experience.
Kendall Products - Dri-Dek - Flexible, self-draining, modular floor system.
---