08 8830 - Tension/Suspended Glazing
(Includes cable and rod systems)
See also: 08 6300 - Metal-Framed Skylights
---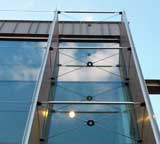 Halfen USA
The Detan Tension Rod System provides aesthetically pleasing bracing and structural support solutions. Detan Systems are used in steel and timber structures, glass walls, skylights, pedestrian bridges, and more. Detan Systems are available in carbon steel or stainless steel, and have no exposed threads or turnbuckles. System diameters from 6mm to 95mm are available.
---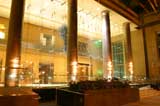 Innovative Structural Glass

Innovative yet meticulously engineered designs. Tension structures designed to support the glass façade. Our versatile system allows for vertical and/or horizontal truss support. ISG systems have been tested to wind pressure equivalents of cyclone, hurricane or typhoon conditions. Computer-aided programs ensure your designs meet rigorous performance and safety standards. Standard systems and custom designs.
---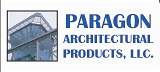 Paragon Architectural Products
Paragon is an innovator in structural glass design, glass engineering and fabrication. Paragon also produces anti-slip glass flooring, switchable privacy glass and a variety of architectural specialty glass products. Our products have been installed in commercial, hospitality, healthcare, museums and high-end residential projects worldwide.
---
---