08 4440 - Timber-Framed Curtain Walls
See also: 08 4140 - Wood-Framed Storefronts
---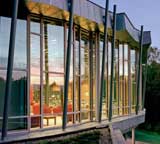 Duratherm Window Corporation
A specialty of Duratherm, our window walls are known for their precision joinery, artisanal glazing techniques, and the sturdiness to bring your designs to monumental success. Our window walls are simpler in presentation and less expensive to install. Computerized detailing facilitates accuracy and customer satisfaction with beautiful results.
---
---

Pella Corporation

Founded in 1925, Pella supplies wood and aluminum-clad wood windows and doors for commercial, institutional, and residential projects. Whether it's new construction or renovation, punched openings or window walls, Pella offers multiple product lines that allow architects to balance performance, aesthetics, and budget.
---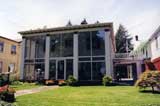 Solar Innovations
Solar Innovations, Inc. provides custom designed, manufactured, and tested timber walls which can be used in vertical or sloped applications, including skylights. Each system is offered in several glu laminate options, which provides increased strength when compared to solid wood, and, with an aluminum exterior, additional durability and longevity are benefits of this system.
---