Dawson Metal Company

The Dawson balanced door serves as its signature and most long-lasting achievement. When it comes to balanced doors, Dawson is the global manufacturer that vendors prefer above all others and incorporates the most innovative technology with exceptional attention to detail to ensure superior quality. All balanced doors are not created equal!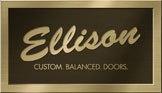 Ellison Bronze

Since 1932 has continuously manufactured custom bronze, stainless steel, and aluminum doors and entrances. Originators of the manual balanced door, we also offer overhead concealed power operation. We can provide door construction utilizing other types of swing and sliding door hardware. A variety of configurations, materials and finishes are available. With service staff for maintenance.