04 2170 - TerraCotta
See also:
04 3000 - Masonry Assemblies for clay based curtain walls
07 4800 - Rainscreens
09 3037 - Terracotta Tile - typically flooring
---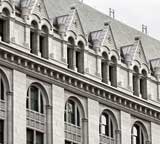 Boston Valley Terra Cotta
Boston Valley Terra Cotta is an industry leader in architectural terra cotta products for historic restoration and new construction. Our success derives from our unique, collaborative approach. Family owned and operated, Boston Valley Terra Cotta's team brings energy and passion for the material to each project, creating exceptional masonry-installed terra cotta that withstands the test of time, especially in severe climates.
---
---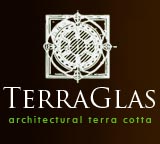 Stromberg Architectural Products

TerraGlas is an architectural terra cotta composite with fiberglass reinforcing that offers the traditional architectural terra cotta look and feel. It is available in both flat and glazed colors that can be matched to existing terra cotta for restoration. The reduced weight compared to traditional terracotta reduces load on historic structures and decreases installation costs.
---