September 2007 Newsletter
Basic Search Engine Optimization
Recent research by Sweets, Architectural Products and 4specs shows clearly that architects and specifiers are predominately reliant on the Internet for product research. Basic Search Engine Optimization (SEO) for your web site is an inexpensive way to increase the number of users to your web site.
Three fourths of the sites listed on 4specs would benefit greatly from a redesign of just their home page. Key words on the home page are much more likely to be listed (found) higher in the search engine results than the same word several levels deeper in your site.
The rewards after completing these simple changes can be enormous - and highly profitable. To change just the home page to meet these suggestions, and add Google Analytics, should cost under $1,000 - $2,500 max.
The rewards for good SEO can be astounding. One manufacturer's new web design substantially decreased the number of referrals. They were able to recapture over 30,000 visitors a year by following the basic steps discussed here.
An interesting opposing view point: One new advertiser did not want to be found by consumers using search engines as they want only commercial projects. They have done most of what we suggest not to do to - and achieved their goal. Their plan is to advertise in trade resources and provide their url for additional information available to the trade on their web site. The danger in this approach is that many commercial architects rely on Google and other general search engines for their product research and this company may not be easily found.
Goals are very important as you start. My assumption is that most companies want to be found. My recommended goals for a construction product website are two:
Make it easy for the designer to find and use your products in their projects.
Pull in all the free users you can from the search engines.
The fundamental problem I see in most websites is a bias towards stunning graphics and the latest web technology with much less attention to being functional for end users or search engine friendly. The search engines can only record and index text-based content, not image-based content.
I smiled while reading a recent article "The Best Web Sites Are Useful and Ugly" Quoting from that article: "Ryanair, eBay, Amazon, Google, Craig's List, My Space, and YouTube are ugly websites. They are also hugely successful websites." [emphasis added]
[Website modified thusly deleted from 4specs]

Getting Started with SEO
"SEM can be dirty work. It's inexact and in many ways, unscientific. It flops about based on the incessant fickleness of algorithms and human searchers."
https://www.clickz.com/
Be cautious about fast fixes
If a sales person calls or emails you and promises first place in the Google search results if you hire them, think twice before accepting. They may be relying on black hat optimization which can bite you badly in the end. These techniques include key word cramming, doorway pages and link farms. In the long run search engines may ultimately penalize your web site in their search results.

White Hat SEO
Bruce Clay has good and simple ideas on improving search engine results - through so called white hat SEO. Here is a quote from one of his articles:
"None of the issues covered in this article will shoot a site to number one. There are no quick fixes presented here. However, doing these things in the beginning of your SEO project will get your Web site into shape in order to compete for top rankings. Once you've developed a strong site, you can get into the advanced techniques that will get you number one."
[link no longer available]
Bruce Clay has a further overview of Search Engine Optimization:
https://www.bruceclay.com/seo/search-engine-optimization/

The key basic SEO steps for most sites listed on 4specs are the following - with examples to show what we mean:
Remove frames on your site. Convert the framed pages to pages with the header, sidebars and footers included (rather than typed on the page) so the includes can easily be updated. (This is the technique used on 4specs.) Frames cause the search engines lots of grief and make it difficult for your user to print or bookmark the page or even to send the link to a colleague.
Eliminate flash or splash home pages - make your first page a useful page with good key words and usable for your users. The image below is a classic splash page: no information, just a cool looking design. Think of the busy professional anxious to get to the meat in your site.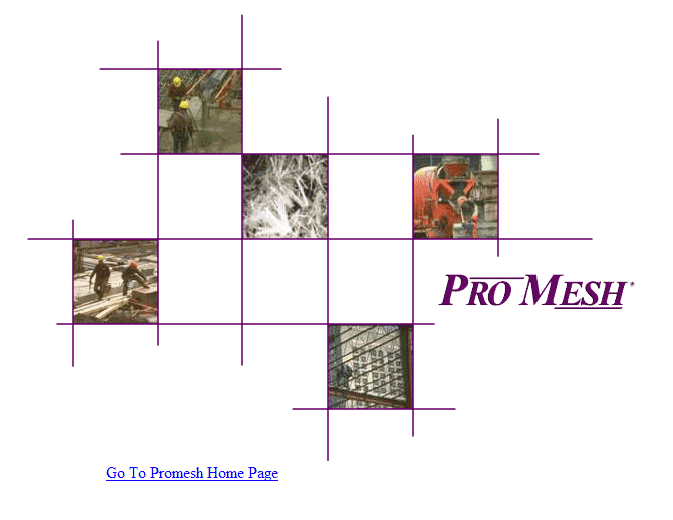 If you "must" have a splash page like this, at least add search engine readable text and links "below the fold" or below where most users' screens display.
On your home page add links to most important pages and add the words people use while searching. Use Google Analytics or other analytics to identify the key words users actually use. Since search engines cannot record and search images for key words, having text is important.
Replace all text images with the real text. This advice has confused many people I have talked with, so following are two examples. Both appear to the viewers to contain text, but to a search engine both sites (childforms.com and mdesignco.com) have nothing but images on the home page.
Here is another example. Again, while the Michael Design site is full of what appears to be text, it is actually all images. There are no words for the search engine to index on the original page.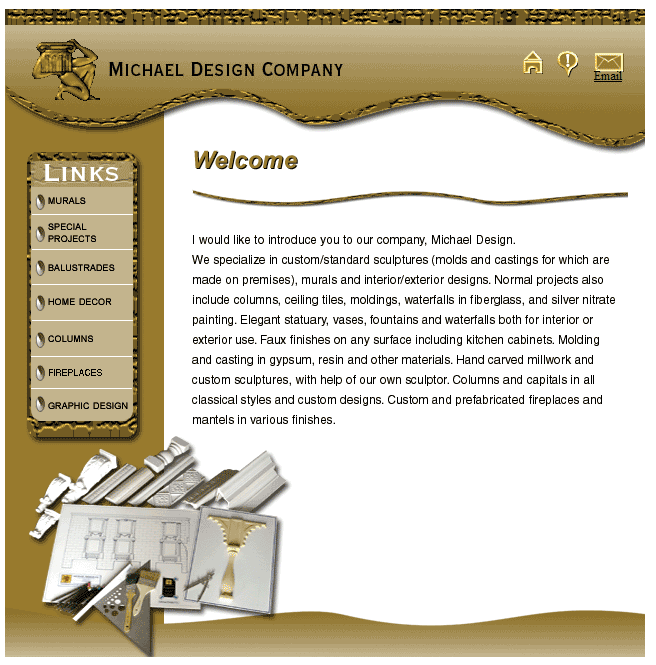 Let's look at what I consider to be a great page. The Garaventa site is one of the most effective sites I have seen that use our 2 measures:
Make it easy for the designer to find and use your products.
Pull in all the free users you can from the search engines.
NOTE the following - on the original Garaventa web site all of the links are text, there is a good selection of key words for the search engines and the user can quickly understand and select the products that are available. For purposes of this newsletter I used a screen shot of their site and on this page the words are images. On the original site the words were text.
After running this page for three months to let the search engines completely include their new design, the next step for Garaventa would be to review the key words used to find their site and add the other key words to their home page as changed or additional descriptions.
Focus on the target - early in the project design the designer will be looking for design ideas. Later on the project architect will be looking for alternate solutions and the specifier will be looking for 3 companies he can use in his spec. Think about the words used at all stages of design and construction - they may be very different.
Search Engine Optimization is a continual process to improve results - not a one-time quick fix. The rewards for good search engine optimization can be enormous. Making your site more useable for specifiers and architects will pay off in being included in additional project designs and specifications.
Email or call if you have any questions.
--------------------------------------
Colin Gilboy
Publisher - 4specs
Contact us
--------------------------------------
Colin Gilboy
Publisher - 4specs
Contact us