09 9720 - Elastomeric Coatings for Walls
(Includes concrete, masonry and stucco walls)
See Also:
07 2400 - EIFS - most of the EIFS systems would also apply for this application
09 9660 - Elastomeric Coatings
09 9710 - Coatings for Concrete and Masonry
---
---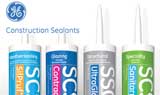 GE Construction Sealants
Momentive is the exclusive global licensee of GE-branded sealants, adhesives and coatings. Good, better, best: high performance, GE SilShield* 100% silicone and premium VIP elastomeric acrylic coating systems help shield your building from the elements.
---
---

Master Wall
Since 1987, Master Wall Inc. has manufactured the best quality products and is the fastest growing manufacturer of Exterior Insulation and Finish Systems (EIFS), Drainage Systems, One Coat Stucco (OCS) and Elastomeric Coatings. Crafted by people who care about the industry, Master Wall offers full product support from sales to technical assistance and plan reviews.
---
---