13 1400 - Aquatic Park Facilities
See also:
11 6840 - Spray Parks for smaller facilities
13 1100 - Swimming Pools and Equipment
13 3410 - Greenhouses, Solariums and Swimming Pool Enclosures
22 5000 - Pool and Fountain Plumbing Systems
---
Aquatic Development Group - Add new features at your facility. Indoor water parks, wave systems, and wave pools, is the easy way.
---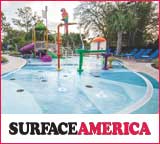 Surface America
AquaFlex® is a slip-resistant, heat-resistant, flexible aquatic surface that expands and contracts with subsurface movement. It's resistant to chlorine so the surface won't bubble, crumble, or crack. The heat-resistant, polyurethane pebbles are 100% color and UV light-stable. Many colors to blend to create any graphic element or logo. See website for specs.
---
Water Odyssey - Interactive water play - unlike swimming and wading pools, aquatic playgrounds have no standing water.
---