09 5900 - Ceiling Restoration
(Typically inplace restoration)
See also: Ceilings for other design options
---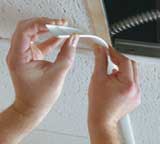 ACP
ACP's GridMAX grid covers simply snap onto the face of old or damaged grids. Grid covers eliminate costly facility downtime for demolition and replacement. A low-cost alternative to replacing or repainting rusted, stained or outdated metal grid, GridMAX works on 2x2 or 2x4 grid system. Install for a fraction of the cost of grid replacement.
---
Ceilume
Ceilume has two ceiling restoration products: EZ-on Grid Covers(tm) are available in white, black, and colors. They easily slide into place and click to stay securely in place. In addition, many styles of Ceilume thermoformed ceiling panels are so thin they can be installed under existing ceiling panels. This eliminates the need to remove and landfill dirty mineral fiber panels.
---
ProCoat Products - Don't settle for new when you can have better than new ceilings at 1/2 the cost and 1/3 the time of ceiling replacement.
---