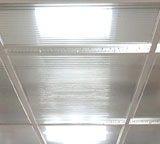 Ceilume
We invented the modern luminous ceiling back in the 1950s to meet needs of the post-war era. Now, with 3 levels of light-transmitting thermoformed materials, we offer Transluminous™ ceilings to meet urgent challenges of the 21st Century, including fire-safety, sustainability, resilience, acoustics, indoor-air quality, building hygiene, and fresh design opportunities made possible by above-ceiling LEDs.
Are You Looking for Local Building Product Manufacturers?
This search - also found at the bottom of every section page - returns the manufacturers listed on this page sorted by home office zip code order. The results include website link, City, State and Zip plus phone number.