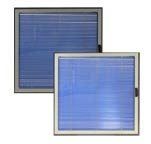 Privacy Glass Solutions
BetweenGlassBlinds™ are an innovative integral blind system, offering maintenance-free and customizable observation control windows for virtually any application. BetweenGlassBlinds™ are double-glazed units, complete with fully integrated Venetian blinds, hermetically sealed between two panes of glass. They are simple to maintain, as the blinds contained within the sealed unit are safe from dust and dirt.
Unicel Architectural Corp.
Featuring perfectly aligned louvers, Unicel's Vision Control® provides optimal and adjustable privacy control. Vision Control® is the ideal privacy glass solution for hospitals, clinics, schools, correctional facilities and private offices where the control of sight is of primary importance. When fully opened, they provide 80 percent visibility. When fully closed they ensure 100 percent vision blocking.