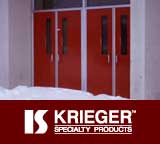 Krieger Specialty Products
Custom manufactured True Thermal Break assembly including: door, frame, and hardware. U-Value .504. R-Value 2.0. Tested and Certified according to ASTM C236-80 Clients include Conoco, City of Anchorage, City of Fairbanks, BP Explorations and Elmer Candy Corp.
McKeon Rolling Steel Door Co.
ClimateGuard™ IS3000 insulated service doors are available in 16-, 18-, 20- and 22-gauge curtain front panels and 18, 20 and 22 gauge back panels. R-value ratings ranging from 6.25 to 9.30, calculated according to ASHRAE formula. Available in primer painted galvanized steel, aluminum, and stainless steel, or can be powder coat finished to any color requirement. Built to any height or width. Available as self-opening.