07 9100 - Preformed Joint Seals
(Typically for waterproofing building joints)
See also:
07 9200 - Joint Sealants
07 9500 - Expansion Control - for metal expansion joints
---
Balco - Balco's exterior expansion joint systems are designed to withstand high-impact, as well as multi-dimensional structural movement without failure.
---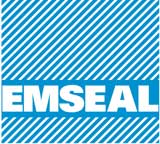 Emseal Joint Systems, Ltd.
Lasting structural and aesthetic joint sealing and bridging. Solutions for exterior and interior floors, walls, and decks, above and below grade are based in technical competence and innovative products. Handling movement while imparting functional load capability, watertightness, aesthetic balance and durability, characterize EMSEAL's product range.
---
LymTal International - Our preformed seals are designed for parking structure, stadium and roadway applications.
Polyset Company - Ply-Krete - high-strength, moisture insensitive elastomeric concrete nosing/header material and Ply-Seal preformed, waterproof joint seal.
---
Pecora Corporation
Pecora is an American manufacturer of weatherproofing products specifically formulated to provide superior quality and a wide range of sealant properties for the commercial construction and OEM markets. Preformed joint profiles may be utilized in applications with Pecora Sil-span for the repair of construction joints and construction where conventional sealants and weather sealing techniques are not adequate.
---
---