07 8600 - Smoke Containment Barriers and Curtains
(includes fixed barriers and operable barriers)
See also: 07 7230 - Roof Hatches and Smoke and Relief Vents
---
---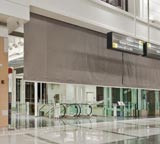 McKeon Rolling Steel Door Co.
McKEON manufactures Smoke Curtains UL 1784 Tested and Listed without and artificial bottom seal. Available with IBC Chapter 10 and NFPA Code ADA Compliant Swing Egress, ASME A171 Vison Panels available, Oversized Certified, Meets Buy America Requirements, fail safe design Does not require power to close. Widths up to 60' and heights to 24'. for larger assemblies please consult the factory.
---
Smoke Guard Corporation - Smoke and fire protection curtains - from elevators and dumbwaiters to atriums and theater stages.
U.S. Smoke and Fire - Our smoke curtains work with smoke extraction systems to provide a smoke escape mechanism.
---