07 2280 - Nailbase Insulation
(Includes insulated decks, typically steeper slopes)
See also: 06 1200 - Structural Insulated Panels
---
Atlas Molded Products - Nailable panel of exposure I-rated oriented strand board (OSB) and UL classified Foam-Control EPSroof insulation.
---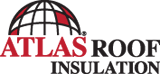 Atlas Roofing Corporation
Atlas Roofing Corporation manufactures polyisocyanurate rigid insulation boards for both low slope and steep slope applications. Products feature a polyiso foam core bonded to APA/TECO rated OSB. Atlas also manufactures polyiso panels with vent spacer strips for steep slope systems requiring ventilation.
---
GAF
Founded in 1886, GAF has become the largest roofing manufacturer in North America. The company offers all major low-slope roofing technologies, including repair and maintenance products and roof restoration systems (often at half the cost of a new roof), as well as new roofing systems.
---
Hunter Panels - Energy efficient and environmentally friendly rigid polyiso roofing insulation for commercial and residential applications.
---

The Murus Company
Murus Polyurethane, EPS, and Neopor® EPS foam core SIPs are available in a variety of sizes, thicknesses, and configurations for use in wall, roof, and floor applications in residential and light commercial construction, with system R-values ranging from R-15 to R-52. Murus services include engineering and drafting, automated factory CNC pre-cutting, and on-site technical assistance.
---
Timber Systems - Timber Systems' innovative Timber-Deck open core engineered wood decking allows insulation values to R-65.
---