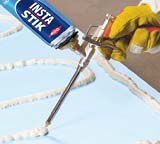 DuPont de Nemours, Inc.
INSTA-STIK™ Polyurethane Roof Adhesive provides a solution for attaching compatible roof insulation boards to roof decks and substrates in new commercial construction and roof replacement applications.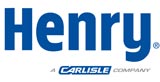 Henry Company
INSULBOND® is a cold applied, water based, solvent-free, rubberized asphalt adhesive for most types of roof insulation including tapered systems, solvent-sensitive Expanded Polystyrene (EPS) and Extruded Polystyrene (XEPS) boards and a variety of substrates include plywood, concrete and steel. #902 Permanent Bond Adhesive is formulated for use with SBS membranes and Henry built-up roofing.