05 7500 - Architectural & Ornamental Formed Metal
See also:
05 7005 - Architectural and Ornamental Metal
05 7530 - Column Covers
---
---

Campbellsville Industries
Pioneered the prefabricated church steeple and cupola and thus rightly earned the nickname "The Steeple People"®. Our product line has expanded to include domes, dormers, clocks, louvers, columns, cornices, balustrade railing, picket railing, urns, finials, weathervanes, towers, baptistries, bulletin boards, and other custom architectural metalwork. Old-world craftsmanship married with new-world materials.
---
---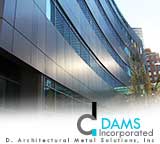 D. Architectural Metal Solutions (DAMS)
Metal wall panels, cladding systems, and column covers. DAMS specializes in manufacturing architectural cladding for commercial architectural applications. Utilizing Reynobond®, Alpolic® composite materials or plate panels, we offer a wide variety of systems with options in zinc, brushed aluminum, copper, stainless steel, Kevlar, and anodized finishes. Ideal cladding for wall panels, canopies, and column covers.
---
---
Southern Aluminum Finishing Co.
provides a wide variety of finishes, including anodizing for aluminum and Kynar 500, PVDF, and Hylar 5000 surfaces. The SAF web site contains information about designing and specifying anodized aluminum.
---