Penco Products
---
---
This manufacturer has chosen to not advertise on 4specs and support the maintenance and development of 4specs. Next time you meet or talk with one of their representatives, let them know you use 4specs as a specification resource. Consider adding these alternatives that advertise on 4specs when making specification decisions.
---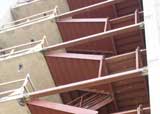 Pacific Stair
Steel egress stair systems. Since 1989. A leader in advanced stair system technology, Pacific Stair Corporation has worked with architects, contractors and builders to design a stair system of exceptional quality. Our engineered stair system has been fully field-tested and meets or exceeds all relevant building codes, including IBC's Earthquake Interstory Drift requirement.
---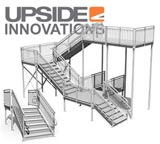 Upside Innovations
Prefab modular aluminum stairs & platforms that are always ADA and IBC compliant. Suitable for any size commercial projects. All aluminum construction is low maintenance and will never rust. Our team of engineers designs a layout drawing just for your project. BIM files and specs make it easy to specify.
---
Construction Specialties, Inc.
What's next in modular and seismic solutions is here. Introducing CS Platform™ Solutions, a game-changing collection of steel seismic stair solutions and modular stairs, balconies, and awnings. We're taking building resiliency and efficient construction practices to the next level with durable solutions that are easy to specify, decrease construction schedules, and most importantly, enhance safety.
---