Nystrom / Babcock Davis
---
---
This manufacturer has chosen to not advertise on 4specs and support the maintenance and development of 4specs. Next time you meet or talk with one of their representatives, let them know you use 4specs as a specification resource. Consider adding these alternatives that advertise on 4specs when making specification decisions.
---

JL Industries – A division of Activar Construction Products Group
Our line of fire-rated and non-rated access panels for access to mechanical, electrical, plumbing or HVAC components can be used for a wide variety of applications. From heavy-duty floor doors to drywall-covered access panels, JL manufactures a wide range of reliable and attractive choices and are stocked in multiple US warehouses. 
---
Acudor Products
For affordable quality, choose Acudor. Access doors for any application – from masonry to drywall to plaster. Flush non-rated, fire rated, recessed, plastic, security, and aluminum. Valve boxes, HVAC duct doors and more. Floor hatches for standard pedestrian to H20-44 traffic loading, up to 280 psi. Angle frame, channel frame, recessed, and removable. Custom capability.
---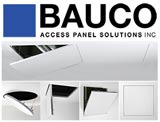 Bauco Access Panel Solutions
Virtually invisible - fully customizable access panels and grilles. Hidden frames and hardware. Suitable for walls and ceilings. Half of the panels we ship are customized to meet project needs. Average turnaround time is 4 days. Customer service and innovative products since 1995. "The nicest access panel we have ever installed. Especially at that large size."
---