Kingspan & Morin
---
---
This manufacturer has chosen to not advertise on 4specs and support the maintenance and development of 4specs. Next time you meet or talk with one of their representatives, let them know you use 4specs as a specification resource. Consider adding these alternatives that advertise on 4specs when making specification decisions.
---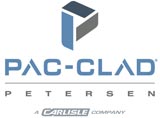 Petersen Aluminum Corp.
One of the nation's largest supplier of metal roofing and perimeter coping systems, composite metal wall panels, column covers, and custom heavy gauge fabrication. Full production facilities in Elk Grove Village, IL., Annapolis Junction, MD., Kennesaw, GA., and Tyler, TX. Also available in flat sheet are Kynar, anodized, copper, stainless steel, and mill finish.
---
ATAS International
Over 30 profiles available in over 40 standard colors, manufactured in aluminum, steel, copper, zinc and stainless steel. Panel styles available: ribbed, flush or corrugated; hidden or exposed fasteners; vertically or horizontally applied. Curving available with certain profiles. Fresh air and solar collector wall system available (LEED). Painted finish is 70% PVDF finish. See website for color selection.
---

Berridge Manufacturing Company
Since 1970, Berridge Manufacturing Company has provided customers with precision-tolerance portable roll forming machines, painted coil and flat sheet, and over 30 metal panel styles available in 32 colors, all backed by technical support and great service. A complete line of in-house equipment produces top-of-the-line products at competitive prices and assures quick order turnaround.
---