Claridge Products and Equipment
---
---
This manufacturer has chosen to not advertise on 4specs and support the maintenance and development of 4specs. Next time you meet or talk with one of their representatives, let them know you use 4specs as a specification resource. Consider adding these alternatives that advertise on 4specs when making specification decisions.
---
Tablet & Ticket Co.
Since 1870 - When quality counts. Indoor and outdoor display cases - built to order. Standard duty unframed doors as well as oversized, heavy-duty framed doors - sliding or hinged. Available with incandescent or fluorescent lighting fixtures, surface or recessed mounted. Wire suspended or bracket supported glass shelves. Several profiles. Ships fully assembled for proper and quick installation.
---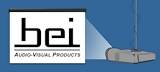 BEI Audio-Visual Products
BEI Audio-Visual Products manufactures commercial use motorized front projection screens, rear projection systems, motorized projector lifts, motorized plasma lifts, motorized window shades, motorized background systems and multimedia lecterns.
---