When you talk with your local Bobrick rep, let them know you used 4specs to access their website. Ask your local rep to show their marketing and advertising person how they are listed in 4specs.
Alternative Manufacturers to Consider
---
American Specialties

ASI is the largest manufacturer of washroom accessories, modular space systems and telephone accommodations, with products and services readily available throughout the world from strategically located distribution centers. Quality products, excellent service, competitive prices and integrity are a tradition at ASI. Detailed product information plus downloadable catalog and technical data sheets.
---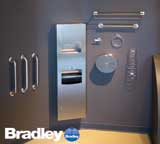 Bradley Corporation

Achieve accessibility and aesthetics with the industry leader in ADA-compliant accessories. Bradley washroom accessories combine innovation, style, form and function unmatched in the industry. From high-end office buildings to high-security prisons, Bradley has a full line of washroom accessory products. Our BradEX® quick ship program ensures timely delivery within 3 business days.
---