When you talk with your local Armstrong Ceilings rep, let them know you used 4specs to access their website. Ask your local rep to show their marketing and advertising person how they are listed in 4specs.
Armstrong Ceilings - Armstrong is a worldwide leader in the design and manufacture of acoustical ceilings, walls and suspension systems.
Alternative Manufacturers to Consider
---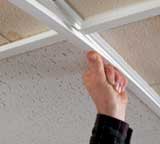 ACP
ACP's CeilingMAX quickly and easily covers old tile ceilings, floor joists, plaster or drywall. Using "snap-in" technology, it works with any standard 2x2 or 2x4 tiles. The high-grade vinyl product eliminates rust and scratches without demolition cost, mess or downtime. CeilingMAX provides an immediate acoustic solution—and with surface mounting, saves up to 6" of ceiling height.
---

Kinetics Noise Control

Kinetics Noise Control's QuietTile is the industry's highest-rated noise-control ceiling tile for lay-in acoustical ceilings. When walls don't extend to the structural deck, QuietTile controls the transmission of noise from one room to another. Ceiling Attenuation Class (CAC) ratings of 49-51 with Armstrong Cortega tile, or select most other ACT styles for the finish.
---