07 2190 - Other Insulation
See also: Insulation & Weather Barriers for additional design options
---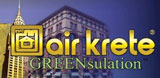 AirKrete
Air Krete "GREENsulation" is the ONLY cement based nonexpanding injection foam insulation in the world perfectly suited for new or existing retrofit block core fill applications. Air Krete "GREENsulation" is 100% Fireproof, Class A Fire Rated, insect and vermin resistant, mold resistant, with zero shrinkage and NO noxious chemical out gassing.
---
Schock USA - Thermal break, load-bearing connection for cantilevers such as balconies and canopies which penetrate a building envelope.
The Schundler Company - Schundler Classic 5 LD cementitious fireproofing, perlite and vermiculite aggregates and loose fill.
---