05 4400 - Cold-Formed Steel Trusses
(Typically providers of systems and components and not local fabricators)
See also: 05 4100 - Cold-formed Metal Framing for metal studs used in trusses
---
---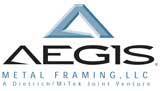 Aegis Metal Framing

Aegis Metal Framing, LLC is the leading provider of pre-fabricated cold-formed steel truss and panel systems, and services for commercial, institutional and residential construction. Aegis provides a complete line of cold formed steel framing (also known as light gauge steel framing) including the UltraSpan® truss system, TradeReady® products (floor joists, headers, Spazzer bars) and WallSolutions(tm) pre-fabricated panels.
---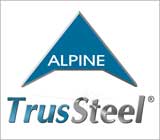 Alpine TrusSteel

Alpine TrusSteel cold-formed steel trusses from ITW Building Components Group, Inc. are easy to specify, design and inspect. Local fabricators deliver complete truss systems to your job site. UL and ICC listings, guide specifications, and standard details in DXF & DWG are available in our Truss Design Manual or from our Web site.
---
Radius Track Corporation

Engineered, pre-curved trusses by Radius Track provide smooth curves with the structural performance specified. Our expertise in CFS framing and complex projects benefits your project. We will manufacture curved trusses to project specification and deliver them to the job site ready for installation.
---
---